- just a couple interesting tidbits, click on the link to read more:

"Global Television Network, wholly-owned by CanWest Global Communications Corp., broadcasts over-the-air via 11 television stations, licensed in eight provinces, and reaching 94% of English-speaking Canada. "
"Global consistently scores more than half of the top ten programs in Canada, with major ratings hits such as the reality series Survivors, and sitcoms such as Friends, The Simpsons, and Will & Grace. Global's Canadian line-up includes reality series Popstars and Cirque du Soleil: Fire Within and police drama Blue Murder."
"CH is designed to appeal to an older audience than Global, targeting an upscale 25-54 viewership."
Recent Articles:
Sci Fi channel renews Stargate for eighth year

Stargate SG-1 heads into the record books
Questions about Global programming:
Jamie Richardson - jrichardson@globaltv.ca

For suggestions to the magazine editors about the content of the TV Guide magazine:
All other questions go to:

D. O'Neill (with two "L"s *snicker*) - oneilld@transcontinental.ca

Stargate SG1: Season 1 will start Sunday, September 7th with it's two hour pilot at 9pm. It will then move to Monday evenings at 8pm, starting Monday September 8th. To learn more, click here.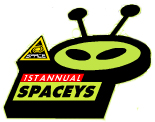 Congratulations to Stargate SG1 for
"Favourite Canadian TV Series"

Mail Bag:
space@spacecast.com - This is a general email address for question and comments about the station and it's programming.
SPACE: The Imagination Station
299 Queen St. West
Toronto, Ontario, Canada
M5V 2Z5